The Curriculum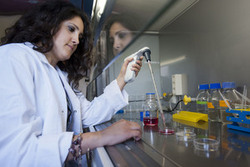 Introductory course and other modules
Introductory course
Due to the interdisciplinary nature of our research programme, students join the school with different educational backgrounds in disciplines such as physics, chemistry, engineering, informatics, mathematics and biology. The students therefore inevitably have different levels of knowledge and training. To address this, BIF-IGS offers students tuition in the basic knowledge of all relevant fields at the beginning of the PhD programme. The PhD course starts with an introductory course that introduces the students to the major research topics and also to the faculty members of the BioInterfaces Programme. 
Curriculum modules
The curriculum is organized as modules, which aim to provide a flexible and personalized training, tailored to the individual needs and advancement of the students. Three types of modules are offered by BIF-IGS: A) soft skills courses, B) transdisiplinary modules and C) specialized modules. During the 3 years of their PhD training, students will have to attend 3 modules of each category, which can be freely chosen from the courses on offer (see Intranet portal).
A) Soft skills modules.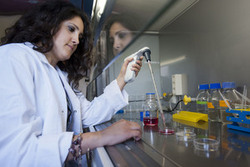 In collaboration with the Karlsruhe House of Young Scientists (KHYS), BIF-IGS offers a number of soft skills training courses adapted to the needs of a young scientist. Different modules cover the fields of research, management, teaching, funding and promotion, and career planning Examples of courses are presentation skills, scientific writing, career development, literature management…
B) Transdisciplinary modules.
The aim of these courses is to teach the principles of the work done in one discipline to the students of the other disciplines. Importantly, these courses are strongly oriented towards practical, experimental aspects that are relevant to the students' projects. Thus, practical courses to provide experience for non-specialists are also offered. These courses provide a rapid and efficient ("express") training, in particular for students embarking upon novel transdisciplinary projects. Therefore, priority is given for real hands-on experience in the particular techniques that the students need for their actual work. These course series are organized and coordinated by the PIs of the BioInterfaces programme.
C) Specialized modules.
An essential mission of the Graduate School is to train students to perform transdisciplinary research. However, its mission is also to help students to reach excellence in their "starting" discipline. For this reason, in collaboration with the partner Universities, faculties and Graduate programmes, the School also implements a robust more discipline-oriented training. Various theoretical and practical modules are offered via specialized workshops and courses to provide in depth training for particular topics in a specific discipline.